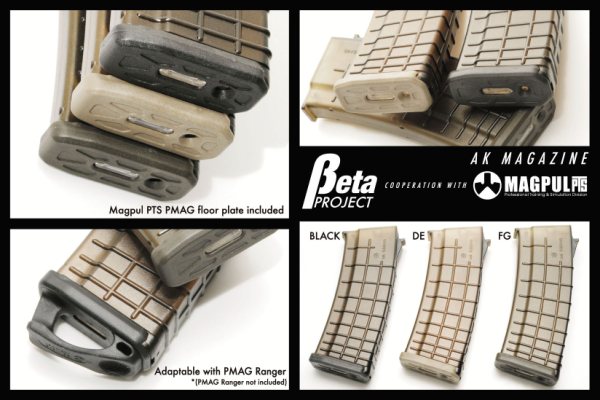 Cargador Magazine Magpul PTS AK 160rds para Masada AKM
123
Cargador Magazine

Descripcion
Magpul PTS AK / 160 rds para Masada AKM
For those who don't like the low capacity standard AEG Magazine, but yet hate winding and the rattling from High Capacity Magazine /This Mid Cap AK Magazines are specially designed for you/ 160 Rounds of loading capacity are enough for most competition & skirmish airsoft game. No more Plastic Bullet shaking which essential for intrusion during airsoft combat situation MAGPUL PTS Industry full license PMAG Series (Manufactured by Beta Project)
Constructed of super high density plastic material that is both light and durable. Semi-Transparent housing, let you know how much ammo left during combat. Include MAGPUL Floor Plate & able to attach PMAG Ranger (Sold Separately) The AKM Magazine will only fit the Magpul PTS AKM / Magazine Type : Standard /Bullet Type : 6mm / Magazine suitable for AK Series AEGLoading Capacity : 160 rounds.